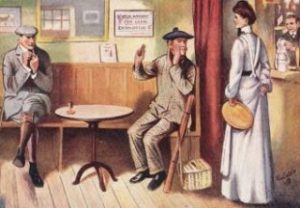 If you're new to fishing in the Highlands you might be wondering what a Ghillie is.  Well, the word 'Ghillie' is Gaelic for man-servant, and this is essentially what the role entails.  The Ghillie is your personal assistant while you are fishing!  The fishing Ghillie has centuries of history behind him and has helped form Scotland as one of the world's greatest game fishing destinations.
An experienced Ghillie will have expert knowledge of fishing on the local lochs and rivers, knowing how their seasonal rises and falls can change their characteristics and the locations where the fish will lurk.  He will be able to advise you on casting techniques and general salmon fishing skills, such as which fly is most suited for fishing that day.  And if you're out on a boat on the loch he will steer you to the best spots on the beat, which will allow you to focus on your fishing and improve your chance of landing a really good catch.  Similarly, if you're wading he will have knowledge of the river or loch bottom so that you can fish as safely as possible.
While it's the Ghillie's job to be on hand to help you catch the Atlantic Salmon and Sea Trout that migrate up the Scottish rivers every year and to lure the resident Brown Trout, it's also his job to look after the fish in his locality. He will know the rules of the lochs and rivers he regularly visits, including the catch and return regulations, which vary from area to area – for example he'll be able to identify if you have caught a hen salmon as these must be returned to the water to spawn if caught later in the season.
Rules and regulations aside the Ghillie will also have an endless supply of fishing stories and local knowledge.
If you're thinking of coming up to the Altnaharra for a fishing break, have a chat with us if you think you might need a Ghillie and we can book one on your behalf.
https://altnaharra.com/wp-content/uploads/2013/02/Scottish-Ghillie.jpg
222
320
admin
https://altnaharra.com/wp-content/uploads/2018/07/altnaharra-hotel-logo-blu-340.png
admin
2013-02-27 19:53:34
2018-07-03 14:30:49
What is a ghillie and why do you need one?