If you're a keen birdwatcher, fisherman or just a wildlife nut, Altnaharra is the ideal location for satisfying your interests. With a vast array of animal species inhabiting its stunning landscape, there is always something to look for or observe.
The best of the birds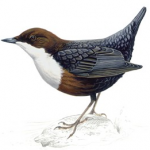 The Forsinard Flows are a vast area of peat land and bogs, that are now regarded as being rare across the remainder of Scotland. As a registered Royal Society for the Protection of Birds (RSPB) reserve, the birds that inhabit this area are in a safe, protected environment that is regularly maintained by a team of staff and volunteers. As such, this is a desirable area for the birds to live and breed in comparison to surrounding areas.
The 'Flows are filled with numerous bird species, but one of its star species is the Dipper. This bird is a short-tailed and plump species, that flies low and bears a white throat and breast against a dark plumage. It also delves into and under water in search of its food, which consists mainly of freshwater shrimps and insect larvae.
Also popular in the area is the Dunlin, the most common small wader on the coast. Yet, despite being the most common on the coast, it is a globally threatened species that has suffered more than a 50 % decline in the UK over the last 25 years. Meanwhile, The Golden Plover was in a similarly sorry state in the past, but has seen a recovering population double in size over the past 25 years. Consequently, it is a popular bird on the Altnaharra peat lands, with a distinctive black and gold plumage that turns white in the winter months.
A final prominent species in the area worth noting is the under-threat, bird of prey – the Hen Harrier. With its main food intake consisting of small birds and mammals this stunning pale grey bird has been the centre of conflict, thanks to its effect on the numbers of grouse available to shoot in the UK and Scotland.
Beneath the waters

Scotland's waterways are famed for their population of migratory Salmon and Sea trout, but the waters around Altnaharra also contain vast populations of Brown Trout.  In fact they are present in all of the numerous rivers and lochs surrounding Altnaharra including lochs Naver, Hope, Meadie, Loyal and Staing where the Altnaharra Hotel has some of its nine permanent fishing boats.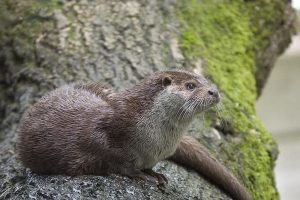 Animals elsewhere
Seals and Otters are two other prominent species close to Altnaharra, and make their main habitat close to Smoo Cave, Durness. Common and grey seals are the featured breeds in the area, and make for joy-filled observation as they roll around on the coastline. Despite their vast size, these wonderful creatures can often be spotted swimming quickly and gracefully in the sea next to their smaller, Otter friends. Although Otters are shy creatures, those out walking at dawn and dusk are likely to see these graceful animals as they leave V-shaped wakes in the water.
This is only a handful of wildlife that can be spotted around Altnaharra, but the area also boasts the likes of Puffins, Bottle-nosed Dolphins and Gannets in its fauna portfolio. All in all, Altnaharra is a free zoo, guaranteed to satisfy any animal lover. 
https://altnaharra.com/wp-content/uploads/2013/09/Otter.jpg
534
800
AltAdmin
https://altnaharra.com/wp-content/uploads/2018/07/altnaharra-hotel-logo-blu-340.png
AltAdmin
2013-09-04 07:47:59
2018-07-03 09:02:51
Wildlife Around Altnaharra